Louisa was the daughter of Samuel K. Bradford and Emily Slaugther. The Slaughter family was a large and influential family in the Culpeper area and Samuel was an established farmer. Many members of the Slaughter family served with distinction opposite Wright during the Civil War in the C.S.A.
During the battle of Brandy Station, Jubal Early used the Bradford family home, 'Afton', which was built in 1841 by Louisa's father, as his headquarters. Later on, as the war progressed, Union officers also used Afton as their headquarters - both for it's strategic location but also to protect the members of Louisa's family during the Union occupation.
After graduation from West Point, Wright entered the Army Corps of Engineers - as a 2nd Lieutenant in 1841. In 1848 he was promoted to 1st Lieutenant, and later to Captain in 1855. During the years from 1846 to 1856, he was superintended to the building of Forts Taylor and Jefferson.
Horatio and Louisa moved to Washington, DC, in 1856, where they continued to live until their deaths.
While assistant to the Chief of Engineer of the Army from 1856 to 1861, Wright was a member of boards to study the iron carriages for seacoast guns and the adaptability of the 15-inch gun for ordnance. Between 1871 and 1872 he co-wrote a "Report on Fabrication of Iron for Definsive Purposes".
From Chief Engineer of a division, that of Colonel Samuel Heinztmann, at the first battle of Bull Run, he advanced to command the famous 6th Army Corps which saved Washington, DC from capture in 1864 by Jubal Early's troops. He spearheaded the final assault on Petersburg and the pursuit of Lee to Appomattox in 1865.
Wright was twice wounded, first in the battle of Spotsylvania and then again at the battle of Cedar Creek.
He commanded the Department of Texas from 1865-66. He served as a member of the board of Engineers for Fortifications and many river and harbour planning boards until he was appointed Chief of Engineers of the Army in 1879.
While Chief of Engineers, engineer officers began a reservoir system at the headwaters of the Mississippi River and initiated the first substantial federal effort to control the river's lower reaches.
Wright completed the building of the Washington Monument whose construction had been halted during the War. He also became a Companion of the Military Order of the Loyal Legion of the United States.
General Wright retired from the Army due to age on 06 March 1884 and died in Washington, DC on 02 July 1899. He is buried in Arlington National Cemetery. His loving wife, Louisa, passed away a year later and is buried beside him in Arlington National Cemetery.
Associated Links: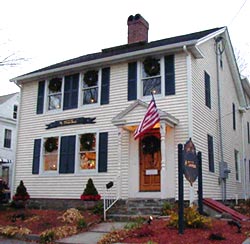 The house where Horatio G. Wright was born, Clinton, CONN, built in 1807.